I just noticed that Vick Strizheus is launching a new product today, called High Traffic Academy 2, or HTA2.0 for short. I have previously blogged about him and the original version of this product.  This time, he has a new partner, Dr. David Thornton, in what seems to a an attempt to add some creditably.
There are some free videos available if you find the right links.  This is typical tactics when it comes to Vick.  I will post an update once I managed to view them.
And the price of this new product?  Can't see it yet, but I have seen ads offering $1,500 discount presented as 75% discount.  That gives us a retail price of a whopping $2,000.  When Vick Strizheus scams you out of your hard earned cash, he certainly doesn't go for small change!
Watch this space for updates…
| | |
| --- | --- |
| Name: | High Traffic Academy |
| Website: | hightrafficacademy.com |
| Owner: | Vick Strizheus |
| Price: | From $297 per month |
| Review Score: | 4.3 out of 10 |
UPDATE:  High Traffic Academy Video 1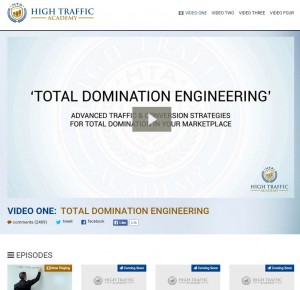 I did my best, but so far only manged to watch about the first 30 minutes of this so-called "training", before I got fed up.  Most if it is Vick Strizheus going on about his life story and his personal achievements (unverified, of course), and why you should believe him.  He barely stops to breathe.
Finally, at around 27 min he starts with some basic training relating to the process of making money online.  You could save yourself the time and get the same concepts, with better training instantly and free, simply by clicking here.
What has changed between from High Traffic Academy to High Traffic Academy 2.0?
Based on forum discussions and other affiliate reviews, it seems pretty much most of what was included in the original version is also included in the new release.  So this is not a new release but rather a relaunch, with some new bells and whistles added.
UPDATE 2016:
Strangely though, when I tried some of the older links from my email, they all now point to a new website: projectbreakthrough.com.  Unlike the other HTA modules, this one has a free to join option.  But where does this fit in the big picture?
Seems the name HTA 2.0 no longer exists, and it's just back to normal HTA.  Included in HTA is Project Breakthrough, with a load of other modules.  But if you find some old HTA 2.0 promotion links, they will now lead to Project Breakthrough.
Confused yet?!
 OK, so what is in the new version of High Traffic Academy?
The new version now has additional coaches to Vick:
Jason McClain
Josh Roaché
Angelo Lombardo
And the number of modules available are huge.  Here is everything listed per the website:
PPC Mastery
Retargeting Adwords
Retargeting with Addroll
RLSA with Google Adwords
SEO Traffic 101
Smart Biz Playbook
Twitter Marketing
Video Marketing on Youtube
Affiliate Marketing 101
Content Marketing 101
Facebook Marketing 101
Funnel Mastery
Independent Biz Playbook
Landing Page Secrets
Media buying ROI
Project Breakthrough
Facebook Champion
Data Secrets
Email Marketing 101
There is also a tools section
Software
VJ Funnel
Clickpromise.com
And if that was not enough to overwhelm you, there are now 3 groups which you can join:
Elite Mastermind ($297 per month)
Master Marketer ($2,995 per year basic, $5,995 per year pro, $15,995 per year platinum)
Founding Members
How does High Traffic Academy work?
The website is really confusing in this regard.  The information overload is huge.  It feels almost like a shopping site for loads of expensive internet marketing products.
It appears from the home page that it is up to you as the customer to decide which program you want to start with.  First in line with the options is Core Training, at an eye watering $1,997 per year.
There is no FAQ section the website, and no guidance as what level you should start.  Either this website is under development, or this just the back end of a sales funnel.  That just means that they bring in new members through a cheap or free offer (probably Project Breakthrough in this case), then continuously market various upsells in order to sell as many high ticket programs as they can.
What is really concerning is that these are just the training modules.  On top of that you will probably need some of the tools they offer as well.  And there is even more – when you look at the names of all the modules, these are all paid advertising methods.  You will need a HUGE budget just to get started with these.
What does High Traffic Academy Cost?
That depends on the level you want to start at.  There are so many modules in there that it hard to say how much you will have to pay.  It all depends on what level you are at the moment, .but here are some guidelines:
Core Training – $1,997 per year
Affiliate Marketing 101 – $297 per year
PPC Mastery – $497 per year
Retargeting Adwords – $297 per year
Master Marketer Group Platinum – $15,995 per year!
PLUS all you paid advertising, autoresponder, tracker etc.
Who is High traffic Academy suited for?
If you are already an experienced and successful internet marketer, then you might see a module that could be of interest to you.  And if you have that kind of money to spend, you could give it a try.
For less experienced marketers: unless you have a huge budget to spend, enjoy lots of hype videos and like to gamble, I suggest you stay clear of this.  It's easy to loose thousands of dollars in a short space of time with products like these.
Would I recommend High Traffic Academy?
It is hard to see any real benefit in products like these.  Take into account the cost of the products, plus the advertising cost.
I have personally experience the thrills of paid advertising (PPC, Banner Ads, etc), but learned very quickly that even though you can make some good money, you can just as easily lode it on the next campaign.
Having your own quality website and using ethical SEO is in my view still the most effective way to make a living online.  This is what I learned at the Wealthy Affiliate University.  And it is much more affordable:
You can afford more than 5 years of Wealthy Affiliate Premium for one year HTA Core Training.  And that includes everything you need, no additional modules or training to purchase.  Youn can a Wealthy Affiliate University review here.