Exactly what is the SoManyHits, what does it actually do and is it a scam?
Website: somanyhits.com
Owner: Unknown
Cost to join: Free
Upgrades:
60 Days Platinum $27 once off
180 Days Platinum $69 once off
1 Year Platinum $121 once off
2 Years Platinum $177 once off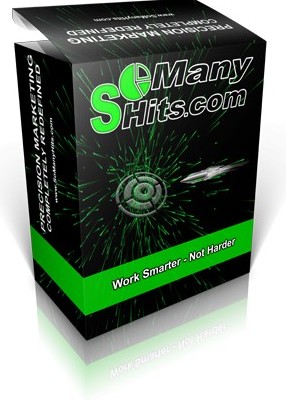 OTO's: None
Link tracking – the core service of SoManyHits
The SMH tracking system is a standard URL tracking and shortening service, you paste you affiliate link, and it generates a new, shortened SMH link you can promote. Your hits are tracked in the campaign stats area.
You can separately track you sources by adding you own keyword to you SMH URL, for example if you promote your link at ABC Adverts, you can add a name after you link like this: https://smh.mx/xme/ABCadverts
For free members, the stats are limited to numbers of hits per keyword.
If you promote a page where you can edit the code, you can make use of the conversion tracking option, which is very useful and available to free members as well.
Upgraded members receive more detailed stats, including:
Unique hits
Total hits
Hits since midnight
Comparison to day before represented as a percentage
Number of conversions
Conversion rate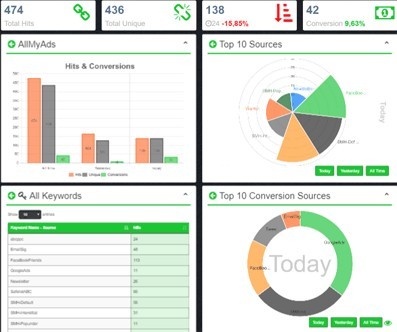 Tracking service Pros:

Free to use
Easy to use, especially if you are new to tracking
Unlimited campaigns
Conversion available to free members (if you can add code to the page)
Tracking service Cons

Tracking links for free members will display a temporary ad or pop-under add from their sponsor, only upgraded members can remove this.
Free members don't get stats like unique hits. You can't learn much from just hits, indicators like unique hits are valuable information regarding the quality of you traffic.
Other tracking services provide more data to free members, see conclusion below
Conclusion on tracking:

It is a useful but basic service, If you have never tracked before, you will probably enjoy it. However, it falls short when compared to the Real Tracker service available to free members at LeadsLeap, which also includes:
Unique hits – a valuable quality indicator, the higher % of unique to total, the better quality of traffic
Real Visitors – page visits that have the page open and active for more than 1 second. Anything less than that is either a bot, viewed in the background, or using a quick click software like Tab Accelerator
Response – records an actual click on you page, like submitting from, clicking a link, click to watch a video, etc
Increased Traffic
This part can be a bit confusing, but I will try my best to explain.
First, we have to understand what the traffic lines and 2-up referral system is. In a nutshell, you first 2 referrals are passed up to your sponsor. Likewise, anybody you refer after that will be in you traffic line, and will pass up their first 2 referrals to you.
So what does this have to do with traffic? Remember what I mentioned above regarding the tracking, every link promoted by a free member referred to by you will show one of you campaigns for 10 seconds, or a pop-under. So by promoting SMH tracking links, you are helping you sponsor get more hits, and likewise you referrals are doing the same for you.
Conclusion:

I'm not fully convinced how this would actually help you. I don't see how this is going to explode you traffic. It will only work if you referrals are actually promoting using their SMH links. Maybe I just don't get it, but it seems a little unfair I am piggybacking on the efforts of someone else's promotion, simply because I referred them.
List Building
All members are given the option to export the contact details of all members in their traffic lines into a auto-responder via a CSV file import.
I am not an expert of list building and management, but from the little experience I had, I know you should be careful about importing contact into you list. You should have separate campaign clearly indicating that you are their SMH sponsor, or else you could get spam complaints. I also believe some autoresponders won't allow you to just import contacts.
Alternatively, you can opt to message you traffic lines through an internal messaging system every 10 days for free members or every 60 hours for upgraded members.
Affiliate Resources – the best I've seen so far
I have to hand it to the creators of SoManyHits, the affiliate resources is the most comprehensive, professionally designed and creative I have seen.
This includes:
Brain Teasers – the best thing I have seen in affiliate resources so far, a very clever way to promote where viewers are desperate to see anything that is not a direct ad
Email Capture pages – they will send follow up messages on you behalf, with you affiliate link
Banners – standard sizes and the designs are clever, designed to catch the eye and not just branding
Splash pages – not you typical one you usually see
Hover adds – non intrusive ads at the corner of site where you can edit the code.
Brain teaser examples (click the image to see a random sample):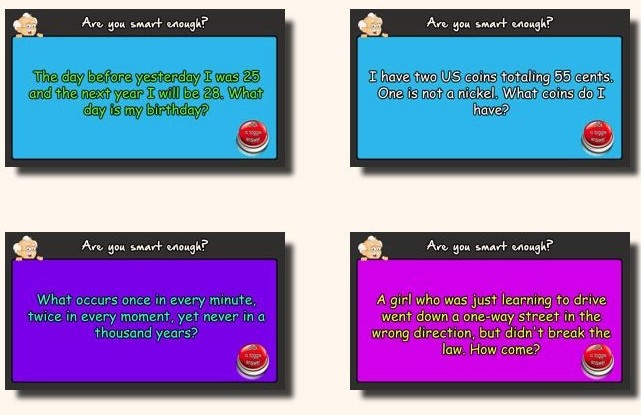 Overall conclusion
So Many Hits provides good quality tracker, but if you are not upgrading you will get better value from a free service like Realtracker from Leadsleap.
I honestly can't say if SMH will explode you traffic and income, it will depend on you own efforts, and those of you referrals, which are out of you control. In my experience it can be frustrating to promote and build downlines, only to see them join but remain inactive.
I do have to hand it to them, the affiliate promotion resources are really clever and different, so if you promote consistently you should be able to get referrals easier than some of the usual websites.
And I do love the fact that there are no OTO's, so its easy to join free and take the system for a test drive.
Comments?
Let me know if you have comments below, if you are a member and I did not explain something right, please do leave a comment so that I can make corrections.