"I want to start an online business, but I'm not sure what I can sell online."  
These were the same kind of thoughts I faced when I first started out on my online journey. Most of us have some kind of awareness that there a loads of money being made online, but how do you start when you you're not sure what to sell?  Don't worry, I will show you exactly how easy it is to find things to sell online, it does not have to be difficult at all.
What are the first things that come to mind?  Maybe you though about this:
Selling your stuff on Ebay, Amazon, Craiglist, etc.
Buying things to sell online, through your own storefront
Selling other people's products and earning affiliate commissions
Option 1 can be easy to start with, but soon you will run out of your own things to sell, and you will have to turn to drop-shipping or trying to buy bargains and selling for profit – no longer so easy!
Option 2 can be really complicated.  you might think you have the best product to sell online, but have you considered all 17 factors in this guide .  Wow!  I made to point number 5 before I realised that is way to complicated for me and probably most people like me!
Option 3 is by far the easiest- almost too easy.  The problem that most people will face here is simply trying to figure what they want to sell online, because the possibilities are limitless.  But your success will depend on how well you do your research, so lets start getting into that.
Research – What are people looking for online?
People are always for things to buy online.  you can browse all the categories in Amazon, but that only shows a fraction of the total market out there.
First, let head over to ubbersuggest,org and see what they can suggest for the open term "where to buy".
Notice how I only managed to fit in 3 letters of the alphabet on that screen?!  That should give you a broad idea as to how big the playing field really is.
But we should not stop there.  Market size is an important factor.  Not only do we went know IF people are looking to buy something, we also want to establish how HOW MANY people are searching for that.
So next I'm going to head over to my favorite research tool, to look at estimated search volumes for words that include "buy online":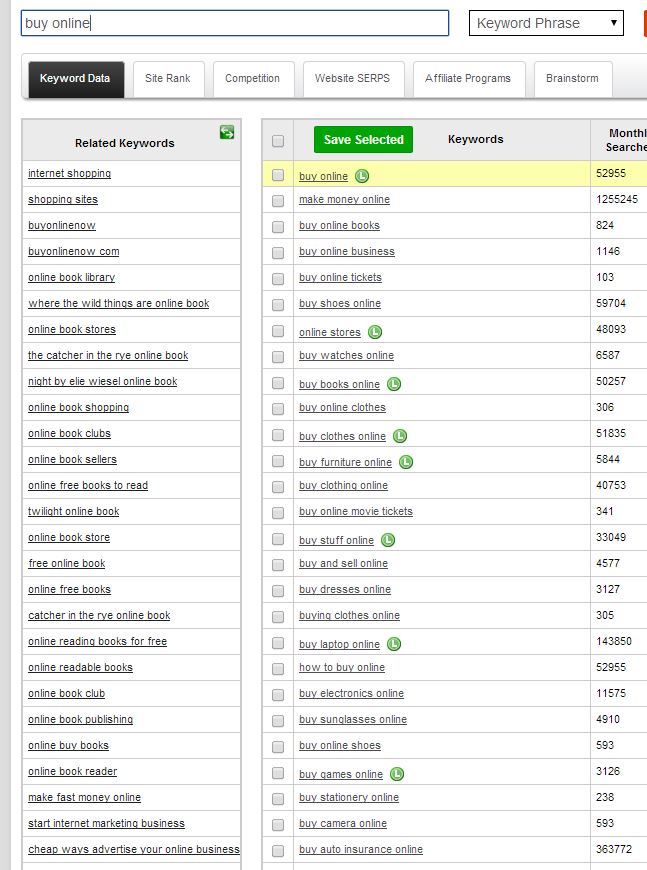 Clearly, there are some huge search volumes!
But what about direct search terms?
If you were thinking just that, you are absolutely right –  not everyone searches like that.  Some people search very specific, like the exact product name, make, model, etc.  You are welcome to take a free trial in the above tool and think of some more specific terms to test for search volume.
As you can see, the shear amount of possibility is actually overwhelming.
So where do I start?
Its very important not to get lost at the research stage, due to the endless possibilities.  That research is only part of the job done.  You will still need to set up your website, learn about niche research, and loads of other things.
First, feel free to visit my home page and set up your first free website.  Play around a bit and get used to the idea of actually being able to to start your own blog or website.
Next, check out my review of the Wealthy Affiliate University.  Your free starter account for your website will automatically give you access to the basic training there, so don't miss out on that.  There are loads of training on how to find the right things to sell online, and how to go about setting up your website to do it in the right way.
Do you think you can sell something online?
Hopefully, I have convinced you.
However, if you are still unsure, share your doubts with me in the comments below.
Or tell me about success stories if you are already doing this!