The Wealthy Affiliate University – My Personal Experience and Review
This website would not have been possible without the wealth of training available from a WA membership, and the Siterubix website builder (a tool that forms part of WA membership).  I want to make it clear that I am a current member, and I am writing this out of my personal experience from being premium member.

I will now address some of the basic questions I have come across, based on my experience from the inside.
How Does Wealthy Affiliate Work?
Wealthy Affiliate is membership platform, which provide the tools & training to start your own website, and use that website to earn money.  For more information on ways to make money from websites, see my post on how to start an online business at home.
Wealthy Affiliate has 3 main components to it:
Training
Tools
Community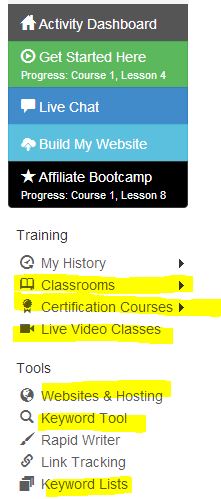 1. Training
You may have seen WA being referred to as an open education project.  WA is a training platform, with the tools necessary included.  It is not a get rich scheme.  WA won't make you rich – nothing will, but it will teach how to work towards starting your own online business.  Follow the training, do the work, and you could well be on your way to earning a full time living from the internet.  There are members in WA community who are living proof of that.
WA has courses, or classrooms, you can work though, from the very basics (kind of affiliate marketing for dummies), to the more intermediate and advanced type of training.
These come in various forms:
•             Weekly Live Training Webinars
•             Classrooms aimed at achieving specific goals
•             Live Interactive Discussions on the Live Chat platform
•             Video & Text based Tutorial Training
•             Task Orientated Courses – you tick off steps as you complete them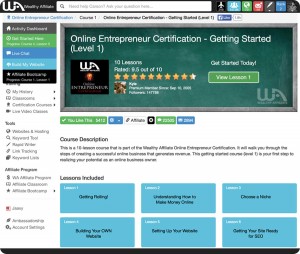 2. Tools
Keyword Researching
Siterubix with WordPress Express website builder
Keyword Lists picked out by the owners for low competition
Hosting for your websites
Content writing & managing
3. Community
An integral part of WA is the community.  Members can ask questions, blog about their experiences and even submit their own training modules.  .  There are so many members, it does not matter what time zone you are in – whenever I submit a question, someone responds to it very soon.
There is a live chat function that is always buzzing with activity, regardless of when I log in.  And the owners are active in community as well.   I recently posted blog comment, and co-founder Kyle responded to it within 30 minutes!
WA teaches you how to find your own niche, and turn you passion into income.  It does have its own affiliate program, and the affiliate bootcamp involves creating a website to promote just that.  Some people frown about that, but to me it is logic – all the training at WA points to you sharing your unique experiences (rather than copy and past tactics), and I found it easy to write content about WA and the website builder, because I was experiencing the exact process myself.  The wrong way to do affiliate marketing is find a profitable niche in which you have no interest or experience, and then try to copy other people's reviews or contents.
Actually, the easiest way to see how wealthy affiliate works is sign up for your $0.00 Starter Account.   You can do it right now and be inside the community in the next minute
Is Wealthy Affiliate Legit?
If you have been scammed by "income programs", or you have wasted money on training by gurus with flashy sales pages, you are going to be sceptical.  I was sceptical at first.
But let me assure you, I know from personal experience that WA has been around for about 10 years.  I first checked them out when my first interest in earning online in about 2005.  They were already established membership site back then, and it was the same 2 founders, Kyle & Carson that is still running it today.
This is not some scam that will disappear next month.  I can say from personal experience that Wealthy Affiliate is legit, you will get exactly what you sign up for.  There are no upsells, just 2 types of memberships, free and premium.  You will not be faced with a long sales page.  You will not receive any emails cross promoting products from other "gurus".  Kyle and Carson set up Wealthy Affiliate with the tools they use themselves to run their online business, so there is no need for them to sell products from other people.
Is Wealthy Affiliate Worth It?
Pros:
You will not find a cheaper quality website creation & hosting service of this quality
Only 1 upgraded option – no concerns over up-sells or hidden true costs
All the training you will ever need in one place
Help from other community members
The techniques taught are truly ethical, so there is no risk of accidental spamming or site penalties
Free starter account with no hidden agenda!
Cons:
Having access to all that information at once can be overwhelming, and cause some new members to loose focus on the step-by-step training
Any member can post training, and I have found some training by members which was outdated, or contradicted the training from the owners (see next point to avoid that)
Some members achieve a good  "WA ranking" simply by being active and responding to questions – but that does not mean they are technically the most competent.  I like to check a members website and their actual rankings – If they have great looking website and rank high in Google, they obviously know what they're doing and I'll gladly follow their advice
Conclusion:
It is the still the best priced, most ethical and scam free training I have come across.  There is nothing that comes even close in my opinion
In my opinion, if  have a Wealthy Affiliate Premium membership, you will never again need buy any internet marketing guru eBook or video, signup for another get rich quick internet scam, waste hours trying to gain knowledge on forums or buy some ridiculously expensive online success course.
Wealthy Affiliate Trial + Special Bonus
One of the most pioneering moves from the owners was the introduction of the Free Starter Account.  This is very unusual; in fact I have not seen anything like it.
This is not one of those "free for 7 days, and then we charge you automatically because you forgot to cancel your subscription" kind of deals.  You stay free as long as you want no pressure to upgrade, though there is a discount for upgrading in the first 7 days.  But you can stay free as long you like.
This is really a no risk offer, you have nothing to lose by trying it out.  So if you don't believe me, and think that I'm too biased, then go ahead and see for yourself.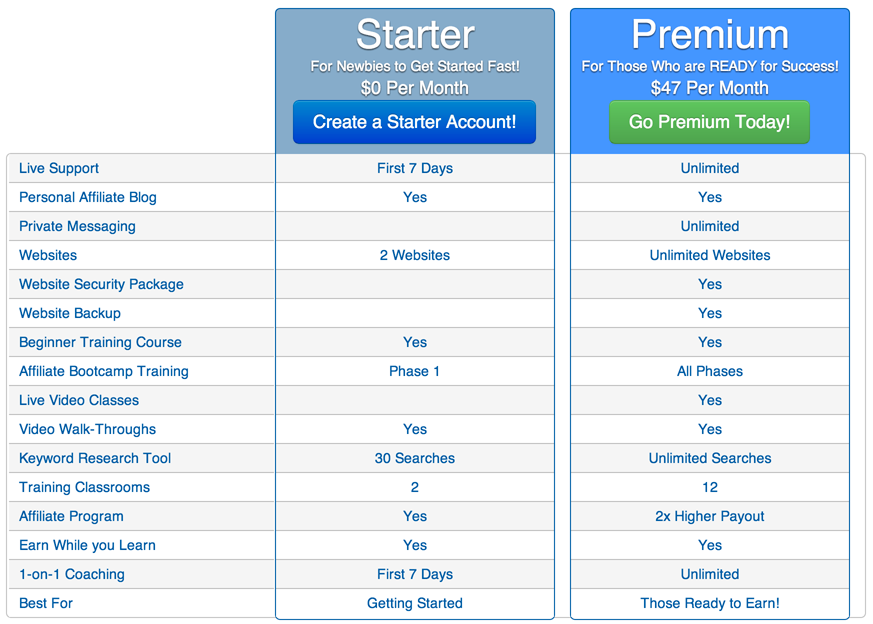 Claiming Your Bonus:
If you decide to upgrade to a Premium account within the 1st 7 days, your first month subscription comes with a 59% discount. But even if you upgrade any time after that, you will get access to the Diamond Traffic Bonus.  You will receive  details on how to access this via a personal message from me in WA profile inbox.
Questions or Comments?
If you have any questions or comments, leave them below and will get back to you.  If you do decide to give the free trial a go, you will have direct access to my profile in WA membership area!