3C Contact Services signs Empower Network as new client – do they know what they're in for?
I just saw a press release from a company called 3C Contact Services, announcing that they are "proud" to have the highly controversial company Empower Network as a new client.  Though I have never been part of EN, I have read a lot of reviews and complaints about them, and could not resist reading a bit further to learn more.
I wondered who this 3C company actually is, is if they are so "proud" to be associated with Empower network, do they really know what EN is all about, and how controversial their recruiting tactics actually is?  I have yet to meet someone who is on the fence about this company, those who make money will defend it with all their might, while the majority who made losses and have left, think its pure evil.  I have received quite few emails trying to recruit me into EN, but fortunately through experience and my background in accounting and auditing, I was able to see through the sales tactics and the flawed compensation plan.  Empower Net work also have a reputation for attracting some of the biggest online scam artists.
So what is 3C Contact Services?
Turns out 3C contact  offers a call center service.  At first glance this would seem like they are biting off more than they can chew with a company like EN, depending on exactly what EN will be requiring them to do.  But check out the following snippet from their website which lists their services: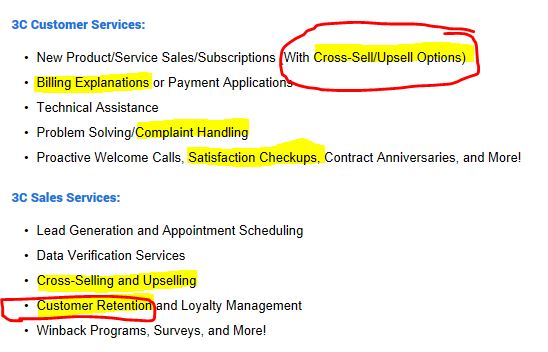 Note the items I highlighted above.    They raise a couple of interesting questions in my mind:
With a company that already has extremely aggressive up-sell incentives for its members/affiliates, does this mean that 3C will be adding additional up-sell calls to new customers?
Given that only a small percentage of EN members actual make money, does 3C have any idea how many complaints they will have to handle?
What is the "Customer Retention" services, and will they make it even harder for people who want to leave EN?
3C president Rick Johnson states that they maintain a 97% customer satisfaction rate – I assume that applies to their client Empower Network, and not EN's clients.  So that means they will be focused on keeping EN happy, and not on the customer satisfaction of the actual EN members
So what is my point? 
The reason this concerns me, is that I see the 2 possible scenarios here:
3C is a reputable company who maintains good customer relations, but got into business with EN without a full understanding of what they are getting into
3C know exactly what they are doing, and are going to attempt to increase up-selling and customer retention in the Empower Network, therefore increasing the damage that this company is doing.
The EN blogging platform is expensive and over rated.  You can get a started with your own FREE blog in the next couple of minutes.  And I would rather recommend that you work on starting your own online business than relying completely on one company, one blogging platform and essentially one range of products
What do you think?
I've given my opinion, but what do you think?
Have you ever been involved with Empower Network or 3C Contact Services?
Do you disagree with my take on EN as a company?
Then go ahead and let me know by leaving a comment below: