My Review of the Easy Hits 4U Free Web Page Builder Service
| | |
| --- | --- |
| Name: | EasyHits4U Easy Splash Builder |
| Website: | www.easyhits4u.com |
| Page or Website? | Page |
| Free Sites/Pages: | 3 pages |
| Compulsory Ads? | Yes |
| Upgrade? | 100 pages for $7.45 per month |
| Review Score | 5.9 out of 10 |
Overview of the service
The Easyhits4u.com website is not primarily a free website service – their main service is providing a Traffic Exchange.  As part of their free membership, they offer their Easy Splash Builder.  A splash page is defined as "a fast loading page that is designed to grab the attention of traffic exchange surfers to your site, with the ultimate goal to attract them to click through to your main site or affiliate url."
The page you design can contain images and text.  Its up to you to decide what you want to do.  The text on your page is not restricted, although they advise against long pages, because that would not be beneficial for using in traffic exchanges.
This is what you will see when you set up your first page: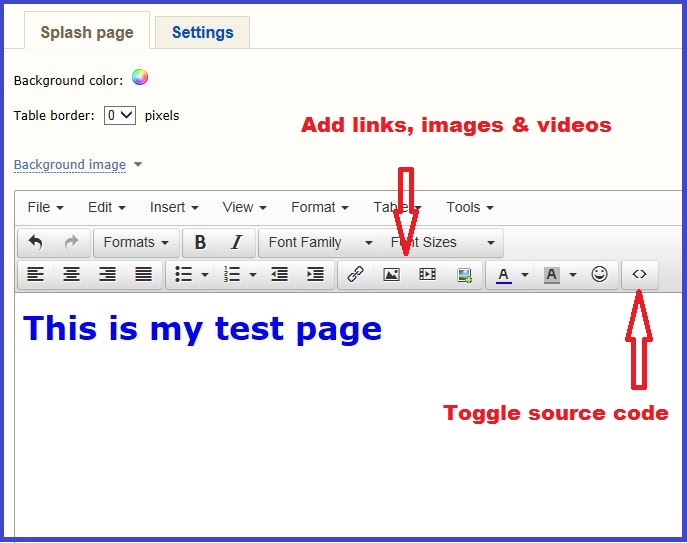 Pros vs Cons
Pros:
Very straightforward to use and quick to set up
You can switch to source code if you are comfortable using that, or stick to the visual editor (easy for beginners)
A quick and easy way to start experimenting with websites and development a feeling for using text and images
Cons:
Since you only get 3 individual pages, this is a very limited service
You do not get an actual website, just pages
The page designer misbehaves a bit in the visual design mode, and sometimes I struggled a lot with formatting specific lines of text
For the free service, it will automatically display bar at the top of your site, advertising the free webpage service (see below)
This site encourages the use of traffic exchanges, which consume a lot of their users time with little results
Traffic exchanges are filled with ads for online scams, and does not help users to learn the legit ways to earn online.
A couple of stand alone pages does not constitute a proper online business
This is what the compulsory ad bar will look like at the top of your pages:

Who is the Easy Hits 4U Web Page Builder Suited For? 
This is service is best suited for
users learning web page design who would like to play around with visual vs source code modes
anyone looking to make quick single webpage to direct visitors to, for example to add a link in an email
Conclusion
The Easy Hits 4 U web page builder was quick to launch and fun to play with.  But if  you are serious about setting up your own website the right way, I would not waste my time on this.
See my recommended way to set up a proper free website.
Questions & Comments?
If you have any questions about what I explained above, or if you have a different option, share it with me in the comments box below!