A new product called Pennies for Products has recently launched, claiming some amazing results,with leads costing just "pennies".  I decided to write a review, but to be upfront:  this had very familiar SCAM characteristics to it, so I did not even waste my money on it.  But stay with me, read on and all will be revealed.
| | |
| --- | --- |
| Name: | Pennies 4 Profits |
| Website: | www.pennies4profits.com |
| Owner: | ??? |
| Price: | $30 setup + $30 per month subscription |
| Review Score: | 2.0 out of 10 |
 What is Pennies 4 Profits and how does it work?
P4P is a lead generation service.  According to their sales page, you will receive 100 high quality leads every 24 hours that you can download every day, plus the ability to add the leads to their own spam compliant built-in mailer.  The leads are supposed to be high converting and targeted to the Internet Marketing and Business Opportunity niches.
They also claim to provide detail information about these leads, which includes
first name
last name
email addres
IP address
Fresh Factor Date (indicator of how current the lead is).
However, exactly what is the source of these $0.01 leads that convert so great?  That is the one thing that remains their "secret", and you are completely relying on their integrity on that matter.
How much does Pennies 4 Profits Cost and is there a refund policy?
To get a membership for this you will need to fork out $30 up front as a setup fee, plus another $30 monthly subscription fee.  Their sales pitch will try to convince you this is a small investment for the value you are getting, but it's still a lot considering that you are paying $60 before you have even seen what you are getting for this, and before you can test it.
The Refund Policy states that you may request a refund up to 24 hours after your initial purchase.  Not enough time to properly evaluate the product at all.
How do I know that Pennies 4 Profits is a scam?
If you are asking yourself how I can review this product and label it a scam when I have not actually bought it, you would be right to do so.  But Let me explain though how I can be so sure.
You see, I have previously paid and tried out 2 products that turned out to be scams, which show an alarming amount of similarities to Pennies 4 Profits.  These products are called Submission Works and Twice Confirmed Traffic.
I am convinced that these are all created by the same people.  The similarities are pretty obvious once you dig a bit deeper.  I do not claim to know how they do it all, but let me list some of them here:
Fake scarcity – always some claim that there is limited availability, or an increase in price. But that never happens, the counters reset periodically.  Classic sales pitch to convince potential customers to buy by creating an artificial fear that they will lose out on great opportunity.
Elaborate claims about the product that sound just too good to be true
Initial positive reviews will dominate search engine results if you search on it, even on trusted internet marketing forums like the warrior forum. But over time, the negative reviews start to show
Source remains a secret – every product will claim to have an amazing source for traffic or leads that somehow nobody else has found, but that will never be revealed to the customer
Only takes Credit Card payments – all these products will take credit cards only, and never use Paypal. To be fair, lots of companies do that, but claiming a refund from your credit card company is harder than disputing a transaction with Paypal, and most customers don't know how to go about it
Identical refund policies – The refund policies on all 3 products are exactly the same: 24 hours within initial purchase. Too exact to be a coincidence.
High paying affiliate programs – This results in aggressive marketing of the product, mostly through email marketing like safelists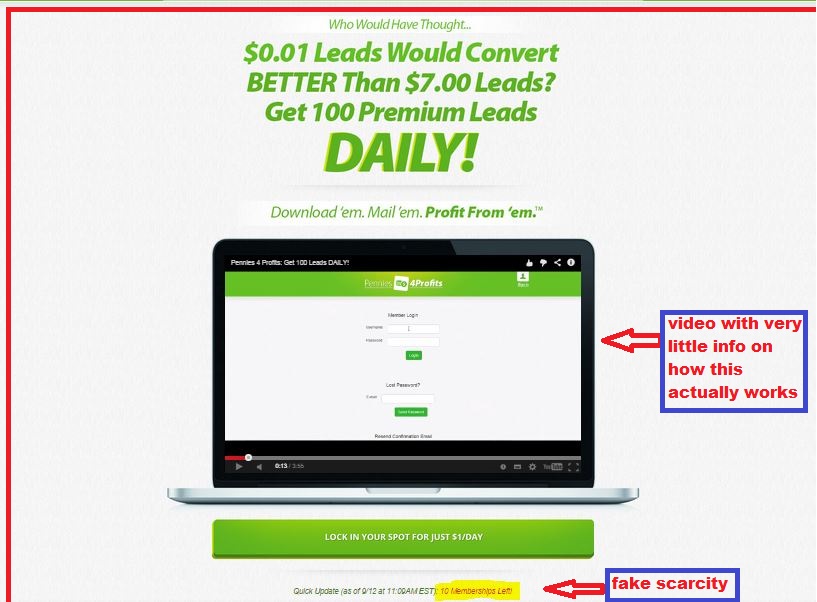 Some other factors that indicate a scam:
I ran the website through Alexa, and it seems that less than 1% of their traffic comes though search engines. For a company that claims to be "widely known as the highest quality lead provider in the USA and worldwide" (from the sales page), this does not add up.  It means that their website visitors are coming from direct marketing, probably email marketing.  A well-known company would have a significant amount of organic search engine traffic.
The copyrights to the website belong to Prospect Flow USA. Referring to the point above about the claims they make about their company, you would think a quick Google search will bring up some details about this "widely known" company.  But no, the company appears to be a mystery as well; I could not find any information on them
On the discussions that I have found on forums, most users have been exposed to Pennies 4 Profits through safelist marketing. If these leads were converting so well, why would anyone be wasting their time promoting this on safelists?
Warrior forum discussions indicate that accounts currently accounts are being cancelled and refunded without explanation. At least they seem to be refunding the customers!
The $30 setup fee is a bit strange, what do  they actually need to set up? And is purely coincidence that this brings the 1st months billing to $60, once again very similar to Submission Works and Twice Confirmed Traffic?
And finally apart from the above, just take a minute to remove the hype from the sales page and emails ads that brought you to research this product.
Do you really believe that high converting leads can sell at $0.01 per lead?
Do you really think that any company can deliver 100 high converting, exclusive leads every day to you and all their other customers?
Final Conclusion: Pennies 4 Profits is likely a scam – stay away from it!
If you are considering purchasing this product, it probably means you are looking for means to make a living online.  You've probably tried many things before and ended up spending more money than you are earning.  Or worse, you've yet to make any money at all and are jumping around to the next big thing that comes around.
The sales pitch is designed to draw you in based on those very emotions, creating a hope that you have finally found that hidden gem that will generate some sales and is easy to use, that this time things will be different.
I know how hard it can be when you read testimonials from customers claiming to have made sales, and you find yourself thinking that it's your turn to have those same results.  Unfortunately you can't trust all reviews that show up online, and you need to be skeptical.  Especially when a product is freshly launched, because with a good search engine optimization the owners & their eager affiliates can dominate the top search results for weeks before the true reviews start showing up.
 I used to be in the same boat as you.  Fortunately I did find the thing that I was looking for.  It's not a magic push button solution, but an honest ethical way to start earning online.  And it comes with free trial, no strings attached.
Click here to read my Wealthy Affiliate review.  And yes, you should be sceptical about it, as for any online review.  But at least you can try before you buy (where else will you find that), so there's no risk to check it out.
What did you think of my review?
Do you have any questions about what I've explained?
Are you a current Pennies 4 Profits customer and would like to challenge my view?
Leave me a comment below and I will respond.