| | |
| --- | --- |
| Name: | My Advertising Pays (M.A.P.) |
| Website: | www.myadvertisingpays.com |
| Owner: | Mike Dees |
| Price: | 30 Day Free Trial, $20 per month + $50 'ad packs' |
| Review Score: | 2.3 out of 10 |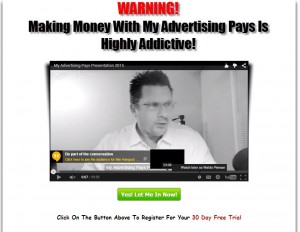 What is My Advertising Pays and how does it work?
If you are viewing this page you are obviously interested in the program called My Advertising Pays.  Maybe you are considering joining, but unsure if is is really legit, or may be a scam or ponzi scheme.  Lets look at the MAP website and see what they say about it: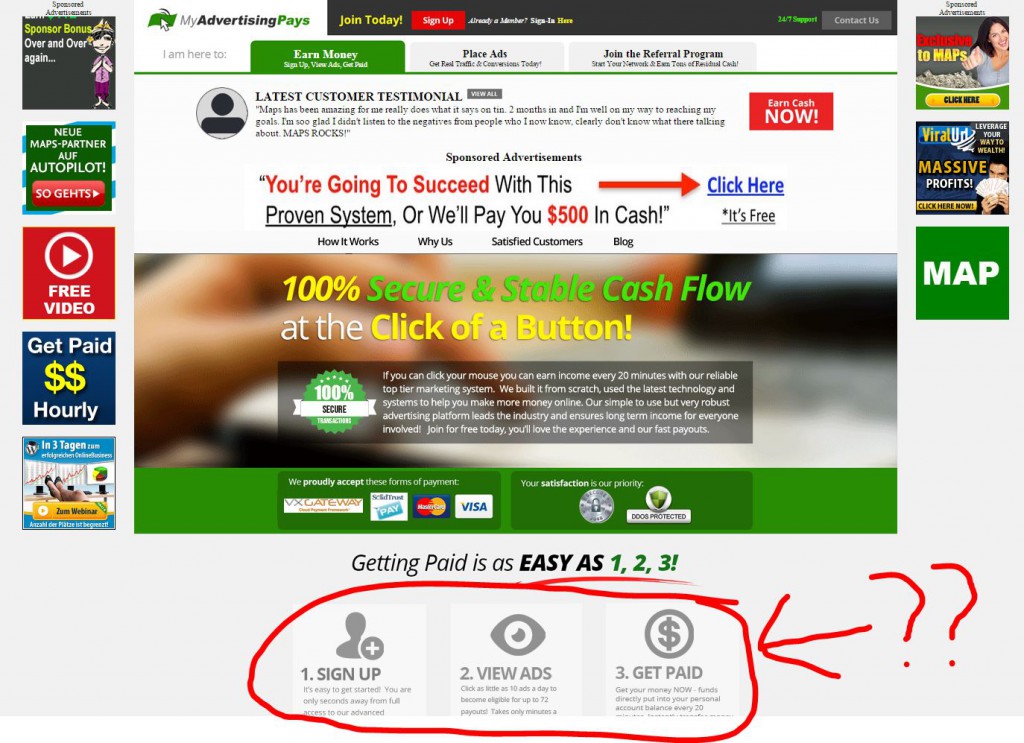 OK, so all you have to is view ads and get paid?  Very similar to My Paying Ads (click here to learn more)   Sounds a bit too familiar, if you have heard of previous paid to surf scams about 10 years ago.  Actually, it is not that straight forward.  You have to buy an ad pack for $50, and then you can earn back $60 if you view 10 ads per day over time.  This how they explain the ad packs in their FAQ:


So it might sound pretty easy, but that is the main concern.  You have to ask yourself:
Why would anybody pay you just to view websites?

Why do you need to buy an ad pack at $50 and does it link to earnings?

How long will it actually take you to earn the $60?

How are they really making profits in order pay me back?
It looks to me like you will just be viewing ads from other members – they even called it a traffic exchange in their own FAQ's.
What are the main My Advertising Pays Scam Complaints?
UPDATE:
My Advertising Pays UK has just been featured in the mirror.co.uk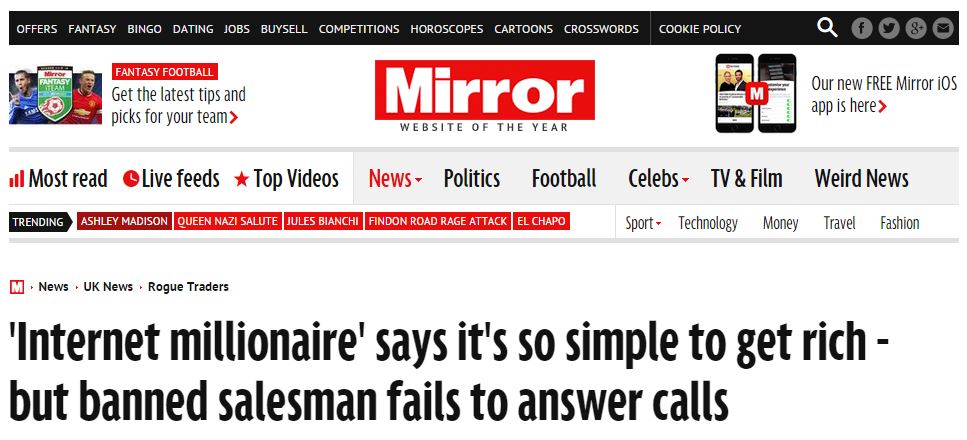 Click here to read the full article
There is also a Facebook group started by members who are trying to spread the message that My Advertising Pays is a scam: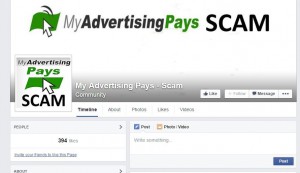 The obvious problem is the fact that they cannot maintain paying out everyone, a typical ponzi setup.  In fact, they claim that you can earn just by referring new members and not purchasing ad packs:

Lets think about that for a minute.  Lets say a number of members decide to refer only in order to earn recurring omissions.  This is very likely, you don't have to fork out $50 of your own cash to start earning.  So over time, there might well be a situation where there are too many 'referring only' members, and not enough 'ad pack buying' members.  How do they plan to keep paying out those 'referring only' members.  
But it gets worse.  What if we have a a couple of super affiliates who also buy ad packs.  They earn $60 on every $50 ad pack, plus 10% on those of their referrals.  Where is the cash coming from to pay out those members?  Is it coming from the ad pack buys of the latest members?  If it is, then we have ourselves a classic Ponzi scheme.  This system will fail, its simply a matter of time.
But wait, you might say, what if they are making revenue from selling advertising to third parties?  Guess what, that is nothing new.  Simply go and read about Charis Johnson and the 12 Daily Pro ponnzi.  Her members were so convinced that she was being wrongfully prosecuted, that they even helped her pay for her legal fees.  It seems when you promise members easy money and pay them for a while, they will believe any excuse you make when things go bad.
Just when you thought things couldn't get worse:
If you signed up for this program, you could even find yourself scammed by fellow members, if you act on their ads.  If you check the knowledge database, the most viewed topic under 'Advertising'  is about being scammed by fellow members!

Would I recommend My Advertising Pays?
Definitely not!  They don't work with Paypal, and they blame Paypal for supposedly closing down accounts at random.  The truth is that if you are doing business in a legitimate way, you should have nothing to worry about.  Paypal does not like MLM style pyramid companies – for a good reason.  They also don't like seeing loads of disputes and refund requests.
If you reading this because you are looking for  way to earn money online, don't fall for these kind of 'easy money' systems.  The only way to earn online is to start a real business, and there are no shortcuts.  You will need some training & support to start out, and you will need to work at it consistently.
The good news is that there is a place where you learn to make some money online, in a scam free, spam free environment.  This something that I would definitely recommend.  Don't worry about cost at first, its completely free to try:
Share your feedback
Leave me some feedback in the comments section below.  Feel free to comment on any of these topics or anything else you want to talk about:
Have you tried My Advertising Pays?
What was your experience?
Are you getting paid?
Do you agree with my conclusion that MAP is scam?
Have you been scammed recently by any other sites?