A My Paying Ads review, covering a few questions like:
What is MyPayingAds.com all about?
Is it just another scam or a legit online opportunity?
How does it work?
How much money can I make?
What's the Paypal Issue all about?
| | |
| --- | --- |
| Name: | My Paying Ads |
| Website: | www.mypayingads.com |
| Owner: | Uday Nara |
| Price: | Free to join, Ad Pack purchases required.  Minimum funds $5 |
| Review Score: | 2.5 out of 10 |

Update 19 Jan 2016:
The Paypal issue is still not resolved.  Owner Uday has posted a video on Youtube explaining that it will take yet another 2 weeks to finish the Paypal review.  At the moment everyone is stuck, and funds can't released or purchases made.  You can watch the video here and make up your own mind about whether you think he telling the truth, or just stalling for time:
What is My Paying Ads?
My Paying ads is claims to be a marketing system, but reality it is typical Paid to Click (PTC) combined with  Revenue Sharing site.  Very similar to another site I review called My Adversting Pays (click here to view).  Owner Uday claims to have solved the problems faced by traditional revenue sharing advertising sites, although I am not convinced and I will show you why.
The most obvious problem all these sites face is that in reality they have no external source of funding, so the return paid on maturing ad packs are actually paid out of funds received from other members buying ad packs.  So you have a large number of members, actually advertising to each other, getting paid from the funds that the other members bring in when they purchase ad packs.
There are are some really outrageous videos on Youtube using spreadsheets and formulas to claim that can earn as much as $200,000 per month!  I can't believe that anyone would seriously consider that possible.   It's easy to play with numbers, but as with all MLM or pyramid type schemes, reality is far removed from the hype.
How Does My Paying Ads Work?
You buy an ad pack and then have to view 10 ads per day to earn back your original investment plus an additional return.  The options for buying ad packs can be a bit confusing and I have quite not figured everything out myself yet.  Here is what they have on their website:
The one thing I was curious about, is the question of how long it will actually  take for these ad packs to 'mature'.  In other words, how many days are you supposed to continue viewing 10 ads per day to get returns indicated above?  I thought this was be obvious in the ad pack purchasing section.  It was not.  So I headed over to the FAQ section in search for an answer, and all I could find was this:

So it seems to me the answer to the question 'how long', is simply 'we can't tell you'.  Are you hearing the alarm bells yet?
Despite scanning through the website membership area, I cannot figure out exactly how these revenue sharing ad packs are supposed to work.  What are the pools the talk about, when they say you need to maintain 100 before you purchase from the next, higher pool?  And how does the Repurchase option work?  If you are a current member reading this, please add a comment at the bottom of this article to help shed some light on this.
You might have heard that they offer a 'Surf Free' plan?  That was the case previously, but when I tried to find out more, I learned that it was discontinued from 1 Sep 2015.  According to the site, the measure was taken to improve the views and clicks on Business Directory Listings.  Clearly that was not working out, and I am not surprised.  They are need members to view ads, since the are offering a marketing service after all.
How Much Money Can I Make With My Paying Ads?
This is really hard to figure out, and I am very skeptical after all those disclaimers mentioned above.  I decided to dig around the website a bit more.  I found a section called 'Recent Payouts', and this is what it showed: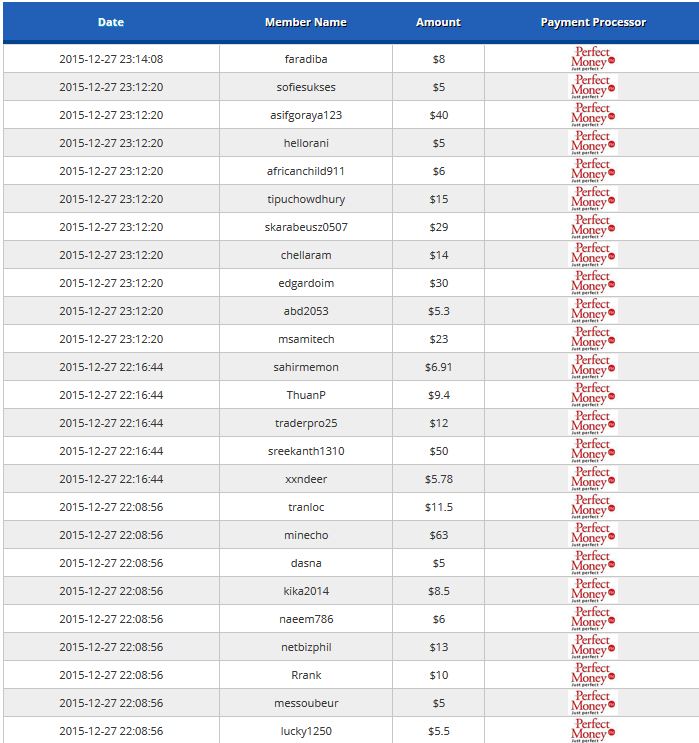 I can't say if this reliable, but clearly just based on what they posted here, these are not exactly amounts to get excited about.  Especially as we cannot verify how long it took them to get to those amounts.  For the time you will probably have to invest into this, you could be investing your time into building a real online business (click here to learn more).
You might have read some raving reviews from members claiming to be making nice amounts of money from MyPayingAds.  Be very careful for those type of reviews, they are full of claims that are not backed up by evidence.  The reason you see them is because of the affiliate program, which pays 10% commission from anyone you refer.
What Kinds of Ads Will You Be Viewing as a Member?
Well, you will be viewing all kinds of banner, text and login ads.  From the moment that you go go to the login page, and everywhere you are inside, you are constantly blasted with member ads.  I checked out the actual 'surf" link, expecting something like traffic exchange setup.  Actually, it was a page with a bunch of banner ads.  You click on the banner ad, which show you the website that another member is advertising.  After the timer runs out, you have been credit with viewing the ad.
What is really ironic, is that the majority of the ads relate to other PTC sites, revenue sharing programs and other 'make money online quick' type programs.  If the members are advertising these, clearly  MyPayingAds is not earning them that much, and they are trying to add to their earnings by signing up more members to the other sites.
Do They Offer Refunds?
No, and that is made very clear on their website when you purchase an adpack.  If you want to roll the dice with this one, make sure that you understand you are taking part in a sophisticated form of gambling.  Regardless of your reasons, if you are unhappy with the site, or if you accidentally miss your surf target, refunds will simply not happen.  Take into account what I said earlier, there are absolutely no guarantees and once your money is in, you will have to wait and hope for the best.
New in 2016- My Paying Ads and Paypal
If you are still considering joining, at the moment you will not be able to purchase any ad packs.  This because they are being reviewed by Paypal and cannot receive any funds until they are cleared.  They posted an update on their website that earnings will be lower than usual because they cannot get any more funds in.  At the time of writing this, they are still waiting for the outcome of this review.  As with MAP, getting banned by Paypal is big warning sign.  They are a well known and respected payment processor and don't just suspend anybody.
Conclusion- Is My Paying Ads Just Another Scam?
I'm afraid my answer is yes, it certainly has the look another Ponzi type scam.  The ability to earn revenue or a return on your investment is completely dependent on the amount of new members and existing members buying as packs.
This might work for a while, but the like all the other similar websites that preceded them, My Paying Ads will start slowing down and/or reduce the pay-out amounts to members.  The initial growth of the membership incentivised by the affiliate program, fuels the pay-outs at the start.  But then it slowly starts working against it, and eventually the  increasing number of maturing ad packs, plus the addition of affiliate commissions, forces pay-outs to slow down or decrease in return.
I know some existing members will probably comment that they got paid and that I am unfairly slamming the site.  But I cannot repeat this enough:  Initially, all these programs pay out.  This is how they grow, because the testimonials from the happy members who got in first.  They are unethical and in my opinion just a cleverly disguised scam.  Just because you got paid today, does not guarantee that that your next set of maturing ad packs will pay.  Or that the new member who joined today will get paid.
Read the FAQ section yourself: earning from the site is NOT guaranteed, and timing for any earnings is undefined.  If there are not enough sales to share among the packs in a day, there are no earnings.  So basically, from what I can see it is just the members sharing the proceeds from the ad packs among themselves.  And that is the basis for a Ponzi scam.
In stead of wasting time on these click to earn sites, why not consider a legitimate a online business (click here for a WA review):
Your Thoughts?
I wan't to know what you think, so leave a comment in the section below.
Agree or disagree with my review?  Let me know why.
Are you a current member of MyPayingAds.com?  Share your experience or clarify something if you think I got it wrong.
Or if you would like me to review a similar site or any other site you think might be a scam, just drop the details in the comment box.