What is the Team Atlantis Trafficwave Downline Builder team and how does it work?  I tried it for a while and this is my honest review and experience.
 

Overview:
| | |
| --- | --- |
| Name: | Team Atlantis |
| Website: | www.teamatlantis.net |
| Owner: | Didi Wargo |
| Price: | Free, but TW upgrade required @ $17.95 per month |
| Review Score: | 6.5 out of 10 |
Important update:
It seems my predictions were not too far off – just see the comments section at the bottom of this post, from current members.
They have been forced to change the system due to saturation – you now only get 1 referral on the first rotator and then move to another rotator for the remaining 2
It seems that you have to wait about a year now just to get 1 referral.  That's over $200 you have to spend and then you don't even break even
It does not seem like lost referrals are being replaced
The system is getting so complicated that you can't really tell if it's working or not
What is Team Atlantis?
Team Atlantis was started by Didi Wargo in 2009 as tool for building downlines in Trafficwave.  The core of how the system works is shared advertising efforts by all members focusing their marketing on a team rotator, which will be straight-line (first come first served) until you get your 3 upgraded members.  This enables the team to reach enormous amounts of opportunity seekers, and as the team grows, so does the collective advertising effort.
How does the Team Atlantis Trafficwave Downline Builder system work?
Once you joined and signed up for the Trafficwave autoresponder through the link of team member and upgraded your account, you notify team leader Didi Wargo and she ads your name on the straight line rotator.  This order of this list is determined by the date of joining.  The current top 5 members on this list has their personal capture pages in the team rotator, which all the team members on this list promote.  Each member much maintain a hit count of 1000 hits per week to keep their position.
Once a member has their 3 referrals they graduate from the 1st straight-line rotator, and move on to the 2nd straight line rotator. This is also first come first serve, and members receive 2 paid referrals from this.  This will give a member of 5 referrals, which gives them Tidal Wave Level in the Trafficwave Affiliate Program (see image below).
Next, the now Tidal Wave member will move to the next rotator, which is a random rotator.  The goal is for the member to eventually reach Tsunami level, which increase the earnings potential.
To help make a bit more sense out of all of this, Here is breakdown of the Trafficwave affiliate compensation plan:
 

Who is Team Atlantis best suited for?
Any existing Trafficwave members who are struggling to recruit new members on their own.
Current traffic exchange surfers who are frustrated with no results, who might like the idea of being part of a greater team effort, and that hours of surfing is actually contributing towards something in the longer term.
Anybody with hours of time and patience to surf traffic exchanges,  or those with money to buy credits
Those comfortable with just following someone else's system and no longer term desire to build their own online business
The Pros vs Cons of the Team Atlantis system:
The pros – what is good about Team Atlantis?
Didi Wargo is the real deal – she is currently the top earner in Trafficwave (see image below)
Once you have your 3 referrals, your subscription cost is covered and you

don't need to spend any more cash

 

Only upgraded referrals

count towards your 1st three referrals from the straight line rotator (and the subsequent rotators) – this is where other downline builders fail, when referrals don't upgrade their free trial accounts
Didi Wargo as a team leader is exceptional in her commitment and efforts.  When I emailed her with questions she responded back within 24 hours
The Trafficwave  

subscription costs stays same

regardless of number of subscribers you have in your autoresponder lists, compared to other autoresponder services which has a sliding scale price based on number of subscribers
Most of the

members are very helpful

and eager to help their referrals succeed
If you lose a referral, the team will replace them, as long you have some proof that offered support and you did not leave them on their own
Huge list of

free advertising resources

shared between members, which can be earned by signing up through their affiliate links to the relevant advertising sites
The collective effort of all new members results in a huge wave of

increasing rotator promotions as the team grows

Special,  members only,

discounts negotiated with major traffic exchanges

for cheaper upgrades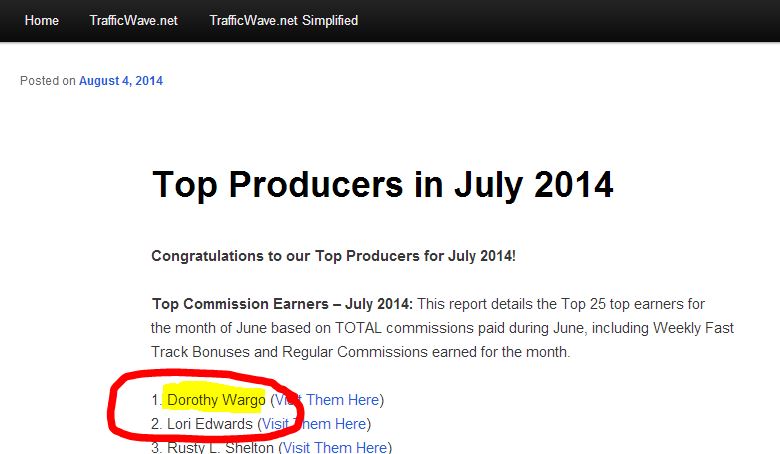 The cons – what are the main Team Atlantis complaints?
It could take

about 6-9

 months to reach the top of the 1st rotator
You need to pay the $18 monthly Trafficwave upgraded fees while you are waiting make it to the top of the first rotator, so you

need about $90-$106 cash in reserve

over that period
I found the actual Trafficwave autoresponder product to be more

complicated and not as user friendly

when compared to the smooth and easy control panels of competitors Aweber and Getresponse
You have to

stay on top of your hit count constantly

to ensure you get your 1000 hits per week.  Some TE's deliver hits faster than others, so you can't just assign credits and sit back.
You will either have to surf to earn your hits, or pay to buy credits or upgrade some TE memberships.  First option takes

a lot of time, second will cost more

and delay the point of making profits
By surfing at TE's you

constantly bombarded with other moneymaking advertisements

.  Some members are bound to lose focus and try the "next big thing", or spread themselves too thin by trying out other programs
I found the

Traffic Exchange surfing to be mind numbing and plain boring

.  In my opinion this is a waste of your valuable time and energy, and is much better spent on educating yourselves and building a real, independent business (see conclusion below)
At some point saturation will come into play and the system will slow down – for every new member that joins, 3 more is needed just to cover that member's subscription.  Effectively, the team's exceptional growth becomes its own downfall.
The whole system relies heavily on the efforts of the (very dedicated) team leader Didi Wargo.  I admire her commitment and dedication to the Team Atlantis members, but few people realise how much risk is involved when you

don't actually control the core parts of your business

In the email broadcasts, members with their 1st three referrals are congratulated on "now being in profit".  

This is not true

, because at that point you are still in a net loss from 6-9 months subscription fees, plus any paid advertising you might have bought.  Yes, on monthly basis you are now breaking even going forward, but you are NOT in profit yet, and it will still take a while for your commissions to catch up with the expenses!
Building a list and marketing to it not as easy as many internet marketing gurus make it seem.  A lot of new Team Atlantis members will sign up for the Traficwave Autoresponder  purely for the income opportunity, and no real intention or ability  to use the autoresponder service for email marketing purposes to build their own legitimate online business
Finally, this is not the real way to start an online business.  

Trafficwave is a MLM

company, which means your are relying on the company and those those members above you and below for your success.  There are better ways to earn online through proper education and zero risk (see below if you are interested)
Final Conclusion: Simple and effective, but I quit Team Atlantis because…
I want to make it clear that Team Atlantis is definitely NOT a scam.  Didi has always responded to my emails in the most polite and helpful manner, and she goes more than the extra mile for the team members.  I tried the system for 4 months before I realised it was not what I wanted to do for my online business.
It will work for you if you have the patience to stay with it.  But don't think because you see Didi Wargo on the top of of the monthly earners list, that you will be able to get anywhere close to that.  MLM's pay structures don't work that way, they reward those with leadership initiative who get stuck in early.  The lower down in the chain you join, the harder it becomes to to duplicate those at the top.
After 4 months I was getting tired of surfing traffic exchanges, and having to check my hit counts every week.  I was still just outside position 100 on the straight line rotator.   I started thinking about what kind of business I was really building, and how I was investing my time.  I always believed that to be successful in any type of business, that you need to learn to improve your education all the time, so that you have the skills to change your business if you need to or even just want to.
Time invested in education is worth so much more than time invested surfing TE's.  At this time I found the Wealthy Affiliate University, and I singed up for a free starter account.  Within a few days I upgraded to premium, because I knew that I have found what I have been looking for.  It was a bit intimidating in the beginning, seeing all that training available and just getting to the point of setting up my first free website – I was used to just following the 'guru's.  But every day that I spent time going though the courses and watching the training, I learn more, and I'm getting closer to my own successful online business.  A business that I control, which is not reliant on a single company, a single team leader, my upline's efforts or my downline's efforts.
Question or Comments?
Are you a current or former member of Team Atlantis?
What was your experience?  How long did you have to wait on the team rotator before you got your first 3?
Do you agree or disagree with my review?
Let me know by leaving your question or comment below!