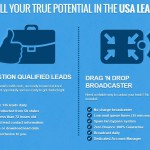 From the same scam artists who brought you
Submission works
Twice confirmed traffic
And now their latest edition: USA Lead Club.
| | |
| --- | --- |
| Name: | USA Lead Club |
| Website: | www.usaleadclub.com |
| Owner: | Tanner Campbell & Daniela Milano (unverified) |
| Price: | $30 Activation + $30 per month subscription |
| Review Score: | 1.0 out of 10 |
As per my previous review, I am not even going to waste money testing this one out.  Firstly, because it's so obviously similar to Pennies 4 Profits, and secondly because I have learnt how to spot these websites.  Coming up with new ideas to con their customers with over delivering on promises and under deliver on results is hard work, but they do get lazy in some areas, so it's not too hard to expose them.
 What is USA Lead Club and how does it work?
This is another lead generation service, promising 135 "3 question qualified" leads every 24 hours.  They claim that these are less than 72 hours old.
In the sales video, it explains that all leads supposedly answered yes to all 3 of these questions:
Do you a valid credit card?
Are you ready to invest at least $100 in the right opportunity?
Are you ready to get started in the next 30 days?
I don't know about you, but that does't really mean anything in terms of proving buying intent, does it?  A lot of users when answering polls like these will say yes to anything, just out of curiosity to see what comes next.  And then of course there is the fact that you are simply taking their word for all of the above.  Yes, the sales video makes it all sound so obvious and wonderful, but video marketing  is a well used sales tactic in internet marketing circles.  They are made by copy-writing experts who know exactly what to say in order to trigger specific buying triggers in your mind.
Like P4P, the service includes the use of their broadcasting tool, so you don't need your own autoresponder account.  They actually encourage you to use their service, which is expected.  If they control the broadcasting of your emails, they can very easily hide the bounce rates and unsubscribes from you.  Members who have used their own third party mailing service have had some awful experiences (see Warrior Forum screenshot below).
Does USA Lead Club have a refund policy?
Here is their policy according their Terms:

Notice that these are exactly the same as P4P and the other sites listed in the intro?  So you only  have 24 hours to decide if you like this product.  Not enough time, is it?  And by the time you realise that you have been scammed, you will already have parted with $60.  See the costing section below.
UPDATE:
I have heard from some users that once they complain about their poor results, they receive a message from support about some kind of 'error', has a refund issued and their accounts closed down.  This exactly the same what happened with Pennies 4 Profits.  This is a new tactic used to make their customers move on and not post about their negative experiences.  Strange, but I assume it must be working for them.  Anyway, here is an example of a message that user posted on a blog:

How much will I have to pay for USA Lead Club?
You will pay $30 per month for this service, plus a $30 Activation Fee when you sign up with them.  Oh, you didn't see the activation fee on the sales page?  Well, just click though to the order page, and you will see it in small print below the $30 per month.  Once again, exactly the same as P4P!!
Will you get results with USA lead club?
I seriously doubt it, even though I have seen some posts on the warrior forum suggesting good results.  But then, there are also posts like these:

But as I have shown in the past, we have to to be careful of fake reviews with these sites.
Here is a snapshot from another review that I found on someones blog:

You might have Googled for reviews about USA lead club, and found some raving reviews on the 1st page.  This is also an old tactic I have become very familiar with.  They have so many dedicated affiliates who are very good at SEO, and usually start their reviews in preparation for the launch of these sites.  They even have some Warrior forum accounts them operate to add some fake reviews.
By the time that the real results start to flow, they gave taken money from loads off customers.  Unfortunately some customers get scammed over and over again, and just accept their fate.  They move on without writing a review or posting on forums about their negative experience.
Tired of getting caught by empty promises over and over again?  Take a look at this $0.00 starting accounting opportunity by Clicking Here
UPDATE!
See the comments section below – real users are starting to tell their stories of getting no results at all.  Even worse, their posts are being deleted on popular internet marketing forums.
Why do these sites keep coming up?
The sad truth is they must be making huge amounts of money from them.  That must be the reason they are showing up one after the other.  Any newbies trying to start start earning online have no idea of the background of these sites, and easily fall for those promising screen shots and results.  And even more sad, some of their previous victims continue to fall for the new sites, simply because they keep thinking that maybe this time they have hit the jackpot.  I wish I knew how to expose those behind the creation of  these sites, but they hide behind the anonymity of the protection of whois guard of domain names.
How can you avoid getting scammed by sites like these?
First, ask yourself how you came about the USA Lead club add in the first place:
Did you open an email in your spam folder?
Are you using safelists?
Are you using traffic exchanges?
All of the above are filled with cons and scams.  You are exposing yourself to loads of web page ads, designed specifically to suck you in.  You need to remove yourself from this and avoid being a sitting duck.
My best suggestion is that you free yourself from these scams.  Close your accounts, unsubscribe from any internet marketing mailing lists.  Trust, me, you will not be missing out.
Then start over and read my review about a truly legit, no-risk opportunity by clicking here.  Sign up for a free starter account. Work through the Getting started or Affiliate Bootcamp course, or both if you like.  Learn the real way to make money online.  Be disciplined and finish your training.  You never have to upgrade if you don't want to.
In fact, let me show you a short comparison:
Don't suffer in silence, let your voice be heard!
If you have been scammed by USA Lead Club, any of the other similar sites mentioned in this post, or any other online opportunity, speak out by leaving a comment below!  The reality is that the affiliates with the fake review sites will dominate unless more victims come out and post about their experiences.  If we can create a buzz about these scam sites, you can do your bit to prevent some future buyers from falling into the same trap!