Hobbies That Make Money – turning your passion into income
Do you spend a lot of time on your hobbies, and even invest a bit of money in them?   Have you ever considered you could be spending time doing hobbies that make money, without knowing?  Your hobbies are things you enjoy and are passionate about.  You choose to spend your time and money on them voluntarily.  So earning a little extra money on the side, while doing something you enjoy, sounds pretty good, doesn't it?
Which hobbies can actually make me money?
If you came to this page looking for a set list of hobbies that could potentially make you money, my next statement might surprise you. Almost any hobby you can think of can has earnings potential. There are only 2 basic requirements for that apply:
Are people spending money on this hobby?
Are they looking for information online relating to their hobby?
Actually, those are kind of trick questions.  Unless you have found something that only a handful of people across globe enjoy as a hobby, the answer is yes to both questions!
In summary, if you a passionate about something and there are other people who share your passion, there is money to be made.
Quick test:
How many people are searching the web for information related to your hobby?
Use this free tool and try a few search terms out:
Just type in how you would normally search for something related to your hobby.  Then check average monthly search results.  They combine the monthly searches from data collected from the most popular search engines  use.
For example, I randomly picked out a popular hobby based on TV show I was just watching – fishing.  Its not something that I personally do, but check out these results: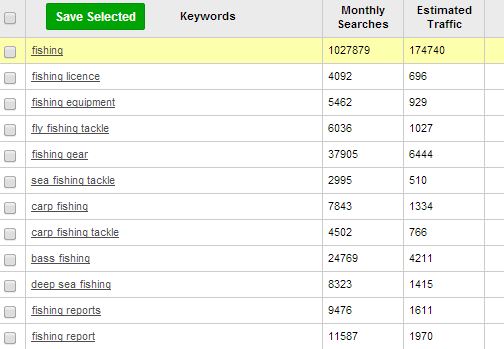 Wow, that is a lot of people searching fro info about fishing!  And only copied top 25% of the results on my screen for this demonstration.
OK, I get what you're saying, but how does it help me make money? 
People are constantly searching the internet:
For information on their hobby,
Looking where to buy the things they need,
Searching for tips to improve their skills,
Looking to connect with fellow enthusiasts
For books related that hobby, etc.
In a nutshell, you set up your own website. You provide useful information (referred to as content) to your website visitors, interact with your users and build up credibility with them by being helpful and answering any questions they have.
How are you going to make any money from that?
They main source of making money from a website is affiliate commissions.  In summary, affiliate earnings means you are getting commissions for recommending something that you already use.  Usually this is done by writing reviews on your own product purchases.
But there are many other ways to earn an income with a website. Take a look at this training post about starting an online business from home.
But I don't know anything about websites or affiliate commissions – I would not know where to start! 
No problem – simply grab a no obligation, no strings attached $0.00 starter account at Wealthy Affiliate.  Go through the step by step training, get your own 2 free websites included in the starter pack to practice and get comfortable with the idea of owning your own website.  Meet people in the community and ask questions – you will be amazed how helpful people are and meet people who started out just like you.  Once you feel that you know what you're doing, you can upgrade to take advantage of all the benefits of a premium membership, or you can keep on using your free starter account for as long as you like.
Learn more about the Wealthy Affiliate University
Questions? Comments?
I tried to keep this brief to avoid information overload, but if you want to know anything or comment on my website, just add a comment below!